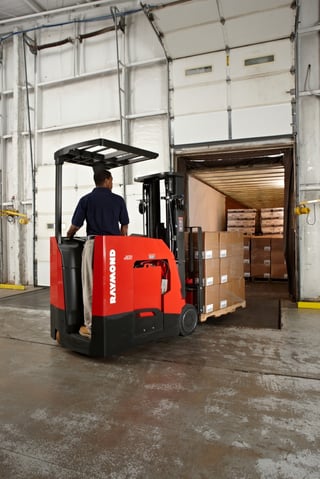 Forklift training is an integral part of any business that incorporates material handling. It's required by OSHA and often times businesses need a variety of forklift training programs to create a safe, efficient, and effective environment on and around the "floor".
We typically place forklift training into one of three camps: operator training programs, technician training programs, and pedestrian training programs. There are unique benefits to each, and we'll be covering each type briefly.
Operator Programs
These programs are all about the drivers (a.k.a. operators). You can better protect the investment you've made in your lift trucks by investing in operator training. By utilizing precision and proven instruction techniques by qualified operator programs, you will be able to quickly optimize your truck operations, through every shift.
It is well documented that lift truck operators who know how to use their equipment make fewer mistakes, leading to greater accuracy and efficiency. Once your operators complete training programs, they will be much more inclined to utilize their equipment correctly, and be optimally suited to achieve greater productivity, less equipment damage from misuse and abuse, and less product and rack damage due to improper handling practices.
Technician Programs
"It's a simple equation: the more skilled and knowledgeable your technicians are, the greater your fleet's uptime is."
Technician programs handle the service side of forklifts, and good technician program trainers will equip your technicians with the advanced training they need to keep your lift trucks up and running at maximum efficiency.
From the comprehensive electrical, mechanical, hydraulic, and service skills necessary to maintain powered industrial trucks, to keeping up with recurring advancements in technology, technician programs enable your technicians to maintain the proficiency they need to protect your lift truck investment today, and into the future.
Pedestrian Programs
Pedestrian training programs assist an employer in teaching pedestrians how to act responsibly in environments where lift trucks are operated, thereby helping to create a more secure, productive environment. In these programs, pedestrians learn concepts and behaviors to prevent injury and gain environmental awareness plus visual communication skills.
A combination of all three styles of programs will offer the most complete training experience and result in the biggets benefit for your business. I hope you enjoyed learning about the different types of forklift training!