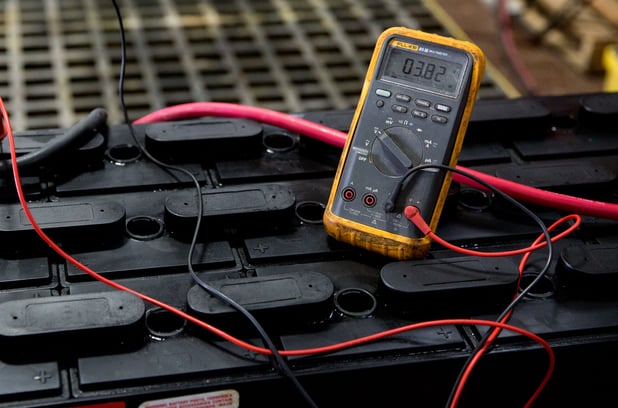 We take pride in being an all-in-one material handling service provider, so that's why we have a full service forklift battery department that covers everything your business needs.
We've been in this industry for over 35 years and we know how much of a pain it is to juggle between a variety of service providers for all your different forklift battery needs. See what we can do for you below!
Service
Brauer takes pride in its highly-trained service technicians, battery technicians, and service coordinators that can set up any battery or charging service you may need.
We conduct repairs, planned maintenance, on-site washing, and much more!
And by utilizing one company that does both truck and battery service, you never have to worry about a repair company blaming the other.
Eco-friendly wash trucks
Our eco-friendly mobile wash trucks are another reason why Brauer is the only choice for all of your forklift battery needs.
You can save money and the environment by working with Brauer!
Sales
Choose and find the perfect power source for your business needs. Our sales team's mission is to find your business the perfect battery, battery handling equipment, and/or charging source for your needs at the best price possible.
Call 800-645-6083 to contact sales today!
Parts
Our parts department has a full catalog of parts available for purchase. Here's a short list of what we have:
Watering systems
Indicator Lights
Fill Nozzles
Battery Fill Carts
Rentals
Not looking to buy for now? Our rental department will work with you step-by-step to make sure you are getting an appropriate battery at the best price possible.
We rent fast chargers, battery handling equipment, — whatever you may need.
Training
We also offer comprehensive training for everything forklift-related, and our courses fulfill your OSHA requirements!
Reliable, effective batteries that keep your business moving.
Brauer Material Handling offers a wide array of batteries from industry leading manufacturers. For all your applications, we specify and provide the right battery for the job. From smaller pallet trucks to heavy-duty lift trucks, we fit the battery to the vehicle.
Batteries provide needed counterweight for our Raymond lift trucks and they are readily removable when their energy is depleted. All our batteries come with comprehensive warranties and are backed by superior product support.
Drive productivity with high capacity chargers.
We also work with the leading industrial battery charger manufacturers to offer our customers a variety of options based on application, budget and type of battery. We offer battery chargers for every material handling environment. All of our industrial battery chargers are backed by the manufacturer's comprehensive product warranties, and we offer everything from fast chargers to opportunity chargers.
We care about our customers, and we'll prove it to you.