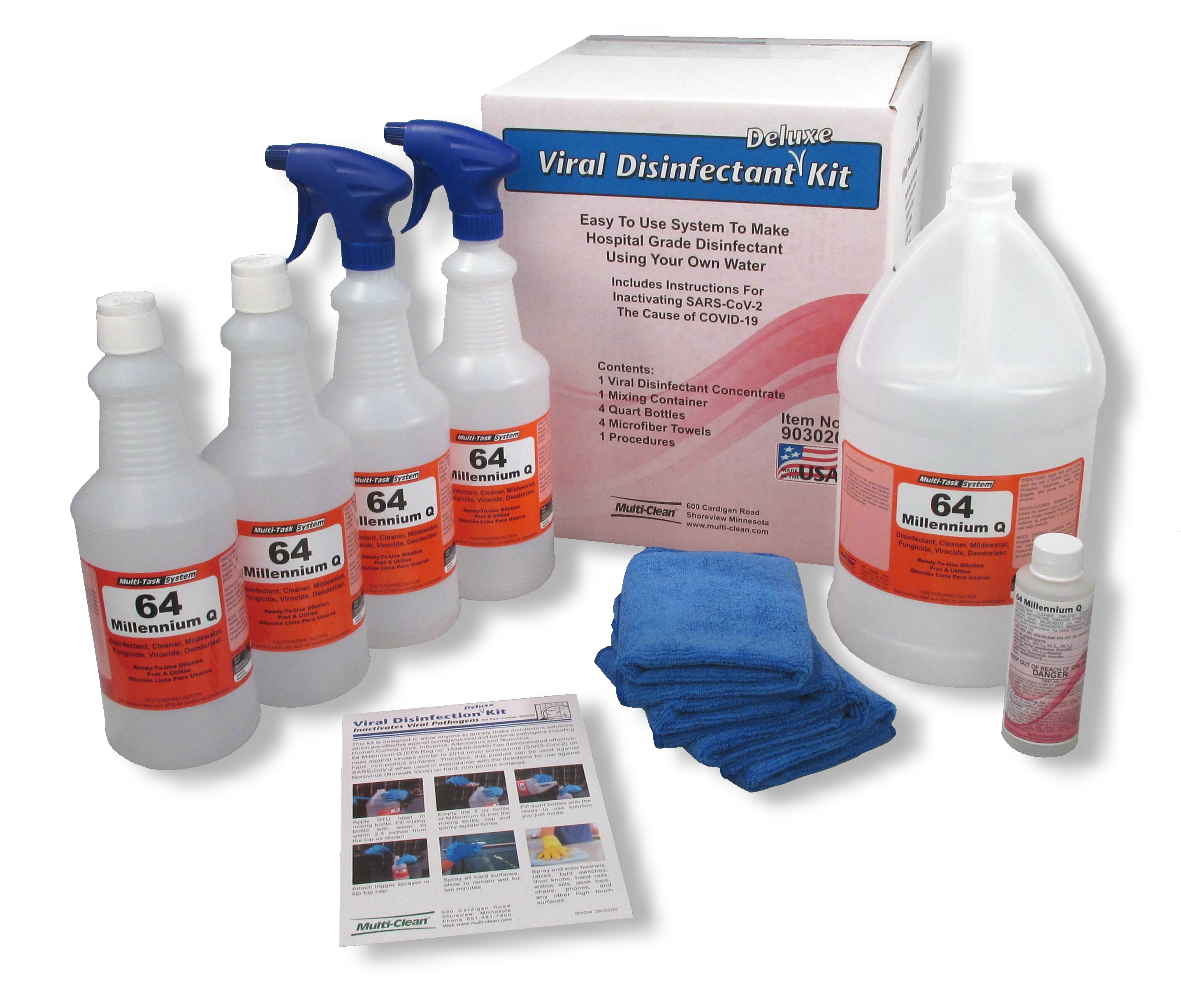 This kit was designed to help fight Covid-19 and works for other viruses as well!
ON SALE!
Was $54.95 NOW ONLY $34.95
While supplies last!
The Kit includes:
1 Viral disinfectant concentrate

1 Mixing Bottle

4 Empty quart bottles

2 Trigger Sprayers

2 Flip top caps

4 Microfiber Towels

Detailed Instructions
Check List of High Touch Critical Surfaces:
Tables

Light switches

Door knobs

Hand rails

Window sills

Desk tops

Chairs

Telephones

Door frames
This kit makes it simple for anyone to make a hospital grade disinfectant using their own water with this disinfectant cleaner. The virucidal disinfectant solution is effective on Human Corona Viruses including COVID-19 as well as many other viruses including Influenza, H1N1 FLU, RSV, & many more. It is also effective against a host of bacterial pathogens. This kit is perfect for small businesses, retail, restaurants and industrial facilities that want to have a reliable solution for their own business continuity plans to deal with a possible pandemic.
This disinfectant is Listed on the Center for Biocide Chemistries (CBC) "Products that Help Stop the Spread of Novel Corona Virus" and can be used to inactivate COVID-19 in accordance with the EPA's Emerging Pathogens Policy. Not all disinfectants can make this claim, especially consumer based products.
Makes 6 full quart of Hospital Grade Disinfectant sufficient to disinfectant 18,000 square feet of surface area.
Therefore, this disinfectant cleaner can be used against the 2019 Novel Coronavirus (Covid-19) when used in accordance with directions for use against Adenovirus type 7 on hard, non-porous surfaces.
Contact Brauer to order your kit today!
Parts@braueronline.com