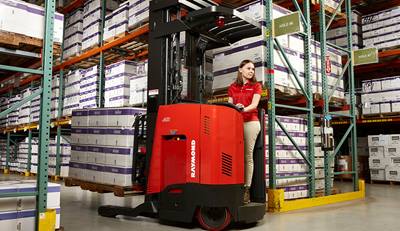 Today is National Forklift Safety Day and what better day to schedule your safety training courses with Brauer! Here's a look at the programs we offer.
Operator Programs
Certified, expert training for precision
material handling.
Protect the investment you've made in your lift trucks and invest in operator training with Brauer. We're confident when we say that no one in the industry offers training as comprehensive as our Raymond-certified professionals. And by utilizing our precision and proven instruction techniques, you will be able to quickly optimize your truck operations, through every shift.
It is well documented that lift truck operators who know how to use their equipment make fewer mistakes, leading to greater accuracy and efficiency. Once your Brauer-trained operators complete our training programs, they will be much more inclined to utilize their equipment correctly, and be optimally suited to achieve greater productivity, less equipment damage from misuse and abuse, and less product and rack damage due to improper handling practices.
Safety on the Move

®

:
The Industry Standard Since 1991.

Used by hundreds of companies and thousands of lift truck operators, the Raymond-certified Safety on the Move operator training program is a comprehensive lift truck safety training program that uses interactive discussions and demonstrations of safety principles, video-based examples and practical hands-on sessions. Trainees are able to both see and experience for themselves the important concepts of lift truck operation that are essential for a safe, efficient warehouse.

Safety on the Move is an innovative combination of classroom and hands-on training, designed to ensure that operators are able to put into practice what they've learned in the classroom. For hands-on training, veteran instructors demonstrate the optimal operating practice for the equipment and assist operators to learn each practice until they have satisfactorily demonstrated competency.
OSHA requires all forklift operators to be properly trained and certified every three years, and Safety on the Move meets that requirement!
There is a Safety on the Move training class for each and every Raymond® model. The forklift course is made up of eight user-friendly, informative and interactive program modules.
Contact us today for more information about our operator training programs, and how we can help you improve productivity throughout your facilities.
Technician Programs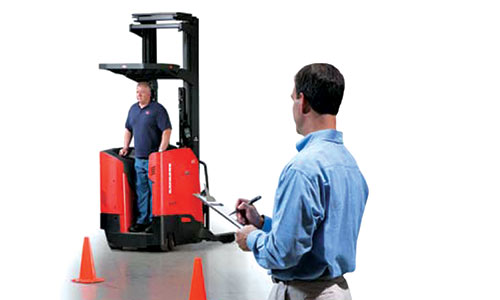 Brauer lets you get the most out of your lift truck fleet.
It's a simple equation: the more skilled and knowledgeable your technicians are, the greater your fleet's up-time is.
And when you partner with Brauer, we provide your technicians with the advanced training they need to keep your lift trucks up and running at maximum efficiency. With both classroom and hands-on courses taught by Raymond-certified trainers, you are guaranteed to learn from the most experienced technicians in the industry.
From the comprehensive electrical, mechanical, hydraulic and service skills necessary to maintain powered industrial trucks, to keeping up with recurring advancements in technology, we enable your technicians to maintain the proficiency they need to protect your lift truck investment today, and into the future.
We also make it easy and convenient for them to get the training they need by offering courses at our facilities or yours, and also provide consultation services and custom programs that are designed around your team's – and fleet's – needs.
Contact us today for more information about our forklift courses, and how we can help you improve productivity throughout your facilities.
Pedestrian Programs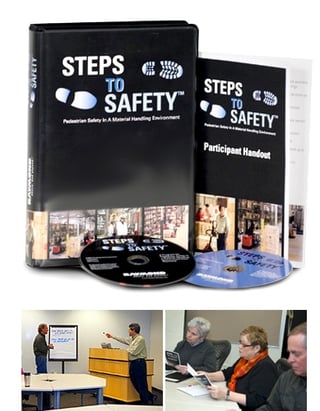 Practical training that improves the total warehouse experience.
At Brauer, education and training do not only encompass the operator of a lift truck, but also the people in the environment around the truck — the pedestrian.
Created by The Raymond Corporation, Steps To Safety™: Pedestrian Safety in a Material Handling Environment, is the only training program that assists an employer in teaching pedestrians how to act responsibly in environments where lift trucks are operated, thereby helping to create a more secure, productive environment. In this program, pedestrians learn concepts and behaviors to prevent injury, and gain environmental awareness and visual communication skills.
The result of cumulative Raymond Sales and Service Center insights on practical experience in the field, along with customers input, Steps To Safety encourages the application of the principles explained in the program to specific business environments and material handling processes.
Steps To Safety

program includes:
DVD
Presentation Materials - customizable
Participant Handout
Steps To Safety can be used independently or as a complement to Raymond's lift truck operator training program, Safety On The Move™, as well as any existing operator training programs.
Contact us today for more information about our pedestrian training programs, and how we can help you improve productivity throughout your facilities.
There's a complete list of our forklift courses!