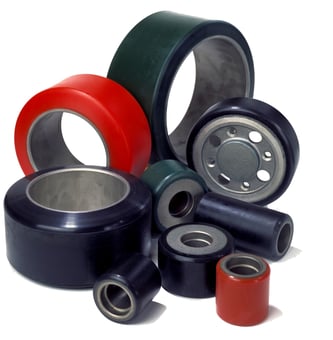 The quality you demand. The results you can trust. Every time.
To keep you up and running, Brauer offers an array of precision engineered and OEM parts for your Raymond and mixed fleet lift truck needs. Our high same day fill rate provides unequaled service and significantly reduces downtime. We are able to achieve this high level of service because our Parts Department features:
Over 4,000 line items in stock
93% same day parts fill rate
99% plus shipping accuracy rate
Access to over 100,000 Raymond part numbers through The Raymond Corporation's Parts Division. And their 95% + service level means immediate backup to the inventory we stock
Dedicated, trained and responsive parts specialists whose only goal is to get the part you need as soon as possible
Competitive pricing you can bank on
It is critical to get the parts you need when you need them, and in order to maintain the highest lift truck parts availability and coverage, Brauer partners and/or utilizes factory-authorized Raymond Parts, RayBuilt and LiftPartners.
We offer both Managed and Consignment Parts Programs:
Maximize your productivity with Brauer's managed and consignment parts programs.
To provide our customers with the right solution for their particular facility, operational and fleet needs, Brauer offers the best of both worlds.
Managed Parts Program
Brauer has the proven expertise to manage every aspect of your parts program with our Managed Parts solutions. We meticulously manage your parts inventory and needs, and automatically restock when supplies are low.
By entrusting Brauer to manage your parts, you'll save time, money and effort day in and day out. And best of all: we deliver the majority of parts in 24 hours or less.
Consignment Parts Program
If you have Raymond or mixed truck fleets, Brauer's consignment parts program is all you'll ever need.
Our customers save time, money and effort by taking advantage of our superior consignment parts program for any Raymond or mixed truck fleet. Simply pay for the parts you stock only when they get utilized. If desired, we can also track your inventory and automatically order when the stock gets low. And we can design a custom parts sourcing and fulfillment plan around your business.
It's up to you. Whatever you need, we will provide it.