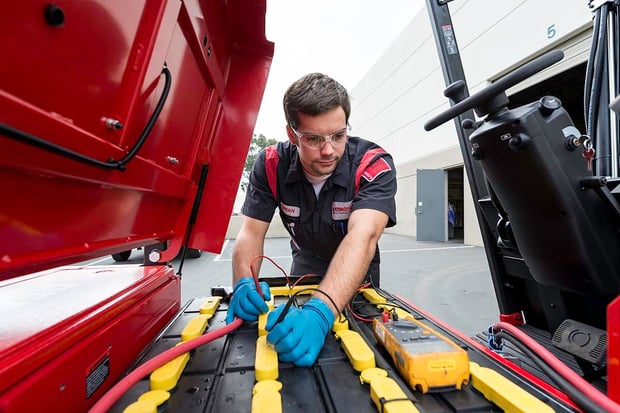 Industrial batteries are used to power electric forklifts. They are used in most warehouses in a variety of different types of businesses. When handling industrial batteries, there are several things you should know. You definitely need to be aware of potential risks, how to be prepared for avoiding those risks, and helping others avoid those risks as well. Always make battery safety your number one priority while working with them.
Potential Risks

These batteries contain sulfuric acid which is a caustic fluid that can cause severe skin burns and/or eye damage. This type of acid can also cause damage to your clothing or other materials.

During phase 1 charging, industrial batteries are producing hydrogen gas. The buildup from this can be dangerous in more ways than one. Be sure to ventilate to prevent inhalation and stay away from smoking areas as well as open flames.

Industrial batteries are extremely heavy (anywhere from 1200-5000lbs depending on size and configuration). Be sure to use appropriate lifting techniques and equipment to prevent injury. It is essential to also use caution to not drop or tip a battery as this can cause injury, damage, and/or acid spills.
There is also a potential for pinches, slips, or falls while working with batteries. So, be sure to pay close attention to what you are doing and the area around where you are working.
Always prepare and be prepared

Prepare by being mindful of the potential for injury and be prepared by using your proper PSD's (Personal Safety Devices). It is also a good practice to know and follow OSHA requirements while working with batteries. If there are bystanders in or around the area you are working with batteries, make sure to keep them informed about what is going on and any potential for risks.

If you would like more information on OSHA requirements, please visit their website by clicking here.
Know the EPA and Green Concerns

While working with batteries, there will be EPA and Green concerns. Sulfuric acid is listed as an "Extremely hazardous substance". Industrial batteries also contain heavy metals such as lead and because of this, should be disposed of properly. This includes any liquid used to wash the battery.
Consider Mobile Wash Trucks

Brauer offers an environmentally friendly option to your battery service needs. Our mobile battery wash trucks wash batteries inside the truck, separate out dirt, neutralize heavy metals, and then take everything away from your facility. Brauer also recycles used batteries to prevent any potential risks of pollution or injuries once they leave our possession. We feel that these things give you added peace of mind and less to worry about so you can continue working as efficiently as possible.

Now that you know the potential risks of working with industrial batteries and how to avoid them, please remember to always make battery safety a priority.